Christmas time is as in Europe a family celebration in Costa Rica. Christmas in Costa Rica begins with the end of the rainy season in November.
Christmas time in Costa Rica
The cool wind disappears and the sun shines the whole day with full warmth, so that the temperatures fluctuate in the double-digit range.
The Christmas season offers a unique view of Costa Rica's vibrant, warm and fun culture and is a beautiful contrast to the cold Christmas days in Europe. A special recommendation for your Christmas holidays in Costa Rica is Hotel Paraiso del Cocodrilo, next to the Buena Vista beach.
the Christmas season.
The Ticos live out all their cheerfulness during the Christmas season. At the end of November the whole house is decorated. The houses, as well as streets and shops, are illuminated with garlands and lights. In some cities there is even an arms race with the domestic decoration. In Costa Rican households, the plastic Christmas tree dominates. It is decorated with colorful lights, bows and balls.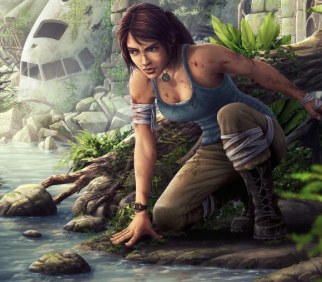 The crib – christmas time
However, the most important decoration of the Christmas season is the crib. As in other countries, it includes Mary and Joseph, the 3 Kings, animals, a hut, moss and often a lake or river. The Ticos have no imagination or creativity when it comes to decoration. However, the Christ Child is not added to the crib until midnight on 24 December.
"Four Negro"
November 29th, also called "Viernes Negro", is comparable to "Black Friday" in the USA. The shops often reduce prices by less than half. This event is naturally used by the Ticos, so most centers are crowded by large cities. They buy Christmas presents and occasionally Christmas decorations.
"Posadas" – christmas time
Another custom are the "Posadas", which start several weeks before Christmas. The Posadas are a reminder of the migration of Mary and Joseph to Bethlehem. Small groups of children go from house to house singing Christmas carols. On December 24, the whole family goes to church together to give thanks. Christmas Eve continues in the grandparents' house, where the family dines and celebrates together. At midnight, in most cases, the gift-giving ceremony begins. For some families, however, the big presents do not begin until the morning of 25 December.
Christmas menu
The Ticos always eat gladly and much. Especially in the Christmas season this is not to be overlooked. Probably the most traditional food in the pre-Christmas season and the Christmas season itself are tamales, which should not be missing in any household. More than 100 tamales are baked per nuclear family. Tamales consist of a maize porridge filled with vegetables (e.g. carrots, beans, potatoes) and meat (e.g. pork) and then wrapped in banana leaves and cooked. Each family has its own traditional recipe with slight variations, so you can also try tamales with raisins, chickpeas, chicken, egg or other ingredients as filling.
"Queque navideño"
Also the typical Christmas cake "Queque navideño" is a must on Christmas Eve. This is followed by "Rompope", a drink that strongly reminds of egg liqueur.
No other country in the world
has as much natural wealth to offer as Costa Rica, although most of the species are still unknown. Estimates suggest that only 15% of the wealth has been explored by researchers.
Banana republic 2023
tax paradise, eco-country ? friendly people, crocodiles, lots of magic nature, already too late? Here in Costa Rica I have sun , sea and friendly people. but: selling is not possible. i think like this
ANGST ESSEN FREEDOM ON Brain booster cool A man saw bread
colourful nature and peace in Costa Rica Samara paraiso cocodrilo – open mind lodge
is december a good time to visit costa rica/ yes any time. –  best place to stay in costa rica in december. the very best and the costa rica in december weather its exzellent. And costa rica weather december celsius about 30 C. what to do in costa rica in december – just have fun.
Hotel Samara Costa Rica 2023
also known as Paraíso Cocodrilo, is recommended for Pacific Ocean holidays. Here you'll find pristine sandy beaches and all the opportunities for an active adventure holiday.
What better location than right next to a conservation project with turtles in the jungle? Fortunately, there is no highway here yet.
The beaches of Barrigona and Carrillo have been voted by many visitors as one of the most beautiful beaches in Costa Rica.
Please do not hesitate to contact us if you have questions or need information.
For more information concerning events and Christmas time in Costa Rica just click here.